#phishdicks
Wed Sep 04 2013
After the first couple weeks of summer 2013 tour, I wrote a blog about how embarrassed I'd be to bring anyone I know who has any sort of musical knowledge to a Phish show. Trey was playing as many bad notes as correct ones, bending them in and out of key like a tone-deaf old man; the setlists were completely stagnant; and despite a noble effort to create explorative second sets, the jams were mostly awkward and formulaic, with only Page dreaming up any interesting ideas. I never published that blog, because, well, I got too busy. But I'm glad I didn't. Deep down I knew damn well they'd get back to form. It was a well-oiled machine that rolled into Dick's Sporting Goods Arena for a third consecutive Labor Day Weekend. As a compulsive listener, list-maker and jam-chaser, I can confirm that last year's Colorado three-nighter blew 2013's away in terms of gross quality improv. As a geek and fan of all aspects of Phish, though, I got everything I wanted in all categories this year for my first trip to Dick's. It's almost ridiculous (whoops) the way I mentioned en route to Friday night's show that I'd really like to get an "Icculus" and then when we arrived there was a plane flying around the venue dragging a "READ THE BOOK!!" banner and then for the third song of the show, "Icculus". These things just tend to happen. It's barely even a surprise any more, but a delight? You betcha.

I'll start with some downsides. The crowd vibe on Friday night was a little creepy; way intoxicated, chatty and unfocused, partially due to everybody's brains scrambling to figure out what the setlist was spelling out. Let's be done with that game now, eh? I have enough trouble turning my brain off as it is. That said, it was still fun deciphering the thing as it rolled out, and despite a very choppy flow to the show, the band was tight. The other major gripe is in regards to WOO. Trey begging the audience to yell WOO at him turns the atmosphere into Bon Jovi. He seems to think he invented WOO at Tahoe a few weeks ago, and the vast majority of the crowd is more than happy to indulge. It's a severe dumbing-down of Phish, plain and simple. I let it bother me for a good ten minutes on Sunday (after heroically staying positive when it eventually killed the greatest jam of the tour on Saturday), which is admittedly my problem and nobody else's, and I snapped out of it pretty quickly. But the fact is that this gimmick, this distraction, spells the end of the jam, and anything that inherently interferes with full-band musical communication is horseshit in my book.

An upside: Saturday was flat-out one of the best Phish shows I've ever attended. Recovering from the somewhat unwieldy pacing of night one, the second night's first set was a compact perfect show in itself. It started with "Buried Alive", generally a good sign as a once-a-year proposition in the modern era, plowed through sizzling versions of "AC/DC Bag" and "Wolfman's Brother" and featured the most intense "Bathtub Gin" I can recall experiencing, like the sonic equivalent of the gradual realization that someone you love also loves you. Liquid fire guitar playing leading to an unreal peak. It felt like many thousands of souls recognized their oneness at that moment and bathed in a single warm musical expression and then collapsed apart again for individual reflection as the main theme trickled back into existence. That intensity returned for the set-closing "Run Like An Antelope", which wasn't by any means experimental, but for the first time in my 3.0-going experience, they pushed past the point where I felt it couldn't get any wilder and frizzle-fried our sense organs with a harrowing über-climax.

Then there was the second set, which began with "Chalk Dust Torture" and could've also ended with it for all I cared. Possibly the greatest single 3.0 jam I've been in attendance for, even with the WOOs. That band I went bonkers for in the 90s that moved from idea to idea like it was spontaneously writing new miniature songs, bringing motifs to brilliant peaks and then shifting into something else with an uncanny natural ease—this "Chalk Dust" was performed by that band. Then, when the set seemed virtually over with…they tear into "Tweezer"?? That put me over the top, and it was such a wicked groove even in its relative brevity. Oh yeah, and there was a nasty little "Light" in this set too, and a smooth "Steam">"Free" segue taboot. I nearly broke my body dancing so hard for so long at this show.


Jon Fishman. If you've been following along with this band for a while, then you have noticed that his playing this year has been way, way better than it was in 2009-12. Sparking creative departures rather than preventing them. Turning otherwise rote tunes into highlights all by himself. (Listen to the end of Friday's "Theme From The Bottom" or Sunday's "Divided Sky" to see what I mean.) On a weekend when Page and Mike rarely took the lead, Fishman was the clear MVP. Even Trey was hit-and-miss, and for fuck's sake, he was axing and whaling and WOOing jams to death left and right during Sunday's second set, relying heavily on stale crutch-licks and generic rock riffage (except during "Prince Caspian", when he inexplicably busted out his most interesting textures of the night), but you could just concentrate on Fish and be lost in musical delight. It's a marvel to witness the multi-tentacled percussive beast at the very height of his powers; he seriously has never, ever been better.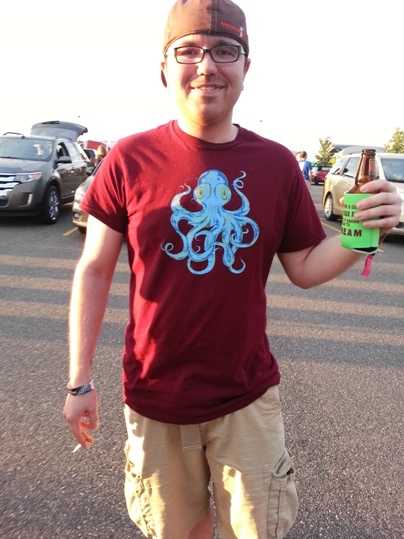 (Aleks' shirt sums up the weekend in terms of Mr. Jon Fishman)
Major improvisational highlights were otherwise hard to come by, to be perfectly honest, but it takes effort to dwell in analytical mode in the powerful giddy afterglow of such magnificent communal wonderment. When Phish is nailing demanding compositions like "Rift" and "Guelah Papyrus" and "It's Ice" (not to mention the unusually excellent Page-led excursion in the middle), tunes they've been flubbing mercilessly for over a decade, as well as Trey actually playing Mike songs ("Yarmouth Road", "Say Something") and Page songs ("Halfway To The Mon") like he gives a shit, you just bask in the scope of undeniably great rock and roll if you actually have love for this band. And there are so many details that have nothing to do with type-II that made these shows so great, like an unprecedentedly dynamic "Ocelot" and silky-smooth segue from "Harry Hood" into "Silent In The Morning", the astounding, fully contoured "Slave To The Traffic Light", the odd, halting piano jam that ended "Gumbo", a rip-roaring "Stealing Time From The Faulty Plan" leading into an unexpected blissy departure in "David Bowie" (as well as a lengthy creepy intro) and another expansive, full-blown "Stash" on par with the excellent Merriweather Post Pavilion rendition back in June and the raw, cataclysmic assault of "Saw It Again" and debuts of "On The Road Again" and "Legalize It"…these are all reasons upon reasons why I keep going to see this band. There were bits of greatness in "Sand" (which the band tried SO hard to twist into "Also Sprach Zarathustra" but Trey vetoed the plan due to setlist game constraints) and "Light" (which featured a hilarious extended tease of "50 Ways To Leave Your Lover") and "Carini" (which Trey basically ended up slaughtering with his only tasteless, awkward pitch-shifter nonsense of the weekend) and "Piper" (prior to the WOOs it seemed destined for greatness), but they won't stand up to the pantheon in the long run. They were glorious in the moment all the same. It's all about the joy you extract and share while you're there, and the audience and band were soaked in it.
People often get confused between the elation of attending a Phish show and the analysis that some of us enjoy in its aftermath. It wouldn't matter if I grew to despise some of these jams in the long run (as I have a few of my favorite in-the-moment 2.0 jams); it wouldn't take away the magnificent fan/band mind-meld that was the Dick's 2013 run. Maybe the best part about this run was the fact that even in the final show of the tour, the guys were testing out new sounds and modes of travel, when they surely could've dialed back to what they knew would work (i.e., the rock out>bliss>ambient formula) and put together a more definitively classic weekend of music like Dick's 2012. Instead, it was hit-and-miss, totally unpredictable Phish, and they still managed to craft six full unusual sets that each contained at least one significant improvisational highlight and remarkably proficient playing throughout. Oh, and Fishman--did I mention he has never, ever been better?
Comments on this article from long ago
2013-09-05 punkmug

Great review. I think you're spot on.

Fishman was a Monster last weekend. Such a great development in all things Phishy as his great playing often correlates with hot music for me.

Gin was a spiritual experience for sure.

That Piper jam is so effing incredible until it got wooed. Such a bummer as it did not need to end with me shaking my head in shame. I would have rather turned to you and given you big high-five. I thought for sure Trey would realize it has run its coarse by Dicks. He's almost like that irritating sibling sometimes. Trey, here's what I say to you…FUCK WOO!

2013-09-05 cal

Thanks Mike! It's just sinking in that it'll be yet another loooong wait for more Phish for me. Argh. Great last shows for the year though.

2013-09-05 Chryss

Great review, Cal! Wish I would have been there. I seriously can't believe they WOOed at DICK's! ARGH!!

2013-09-05 cal

No doubt Chryss, wish you could've been there too! Stupid woo epidemic!!